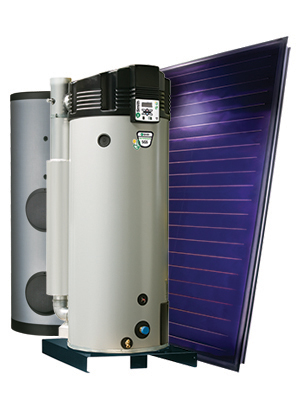 SGS – solar system with ITE
SGS solar system with ITE is installed in combination with an ITE storage tank with integrated heat exchanger. The collectors are connected to the heat exchanger and the available heat is transferred to the tank. If the temperature of the water in the SGS differs more than 5 degrees from the water in the ITE, the heat transfer from the ITE to the SGS starts up. If necessary, the SGS heats the water to draw-off temperature. In the installation the solar contribution is fully utilized. If a higher draw-off temperature is required than can be provided by solar contribution, only then additional gas heating is needed. This functionality delivers the optimum use of solar energy and a minimum use of gas.
Features SGS solar system with ITE
Fully room-sealed condensing high efficiency gas-solar water heater
Automatic gas/air premix burning system including burner modulation
Delivered with low-maintenance inert anodes
Efficiency 97% (gross)
NOx emission ≤ 30 ppm (dry – air free) – NOx class 5
Whisper quiet operation (<45 dB(A) on 2 m distance from duct)
Suitable in combination with ITE indirect water heaters up to 1024 litres
For larger applications A.O. Smith developed the IT storage tanks up to 3000 litres
Varying water temperature setting from 40°C to 80°C with use of week timer
Options SGS solar system with ITE
BMS interface for easy connection to a building management system, learn more…

The

SGS

is suitable for

combining

hot water and heating

, learn more...