In Nederland wordt veel gesproken over ons gasverbruik. Als producent van onder andere gasgestookte boilers, vinden wij het erg belangrijk om zorgvuldig om te gaan met onze primaire energiebronnen. Door innovatieve en energiebesparende producten ten behoeve van warmwatertoepassingen te ontwikkelen, zoeken we naar de meest duurzame oplossingen zonder in te leveren op comfort en veiligheid.
Uiteindelijk willen we te allen tijde de beschikking hebben over warm water en willen we ons geen zorgen hoeven maken over bacterievorming zoals bijvoorbeeld legionella. Dat betekent dat ons warmwatersysteem minimale temperaturen van 60°C moet kunnen behalen en liefst nog wat hoger.
Wat kunnen we doen?
Om een duurzame warmwateroplossing aan te bieden, beperken we allereerst zoveel mogelijk de energiebehoefte door isolerende maatregelen toe te passen. Daarnaast maken we maximaal gebruik van duurzame energiebronnen zoals de zon en gaan we, om in de resterende energiebehoefte te voorzien, zo efficiënt mogelijk om met fossiele brandstoffen. We investeren we al ruim 20 jaar in condenserende technieken waarmee we temperaturen kunnen bereiken tot 85°C en waarmee rendementen tot 109% worden gehaald.
Combineren van technieken
We combineren onze zonneboilers met een elektrische boiler of een gasgestookte condenserende boiler. Daarmee wordt je warmwatervoorziening echt duurzaam. Het water wordt voorverwarmd doordat de zonnewarmte via de warmtewisselaar aan het water is afgegeven. Indien deze temperatuur niet toereikend is, schakelt de elektrische of condenserende boiler in als naverwarmer.
Combineren van toepassingen
Deze boiler kan ook voorzien in ruimteverwarming door middel van de Theta Dual Service. Warmte wordt op deze manier deels opgewekt door de zon en met het hoogst mogelijke rendement naverwarmd. Zonne-energie komt zo ook ten goede aan de ruimteverwarming.
Een schematische weergave: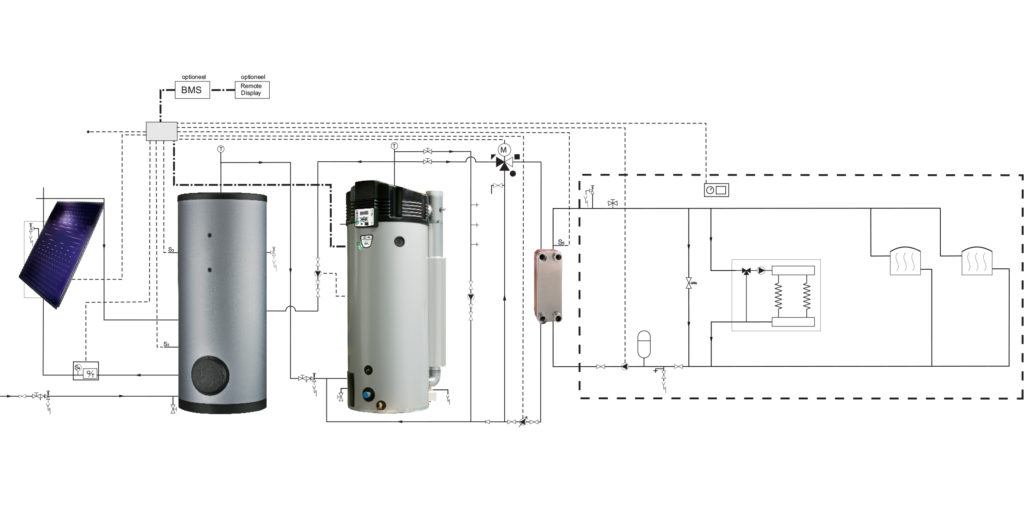 In dit voorbeeld wordt gebruik gemaakt van zonnecollectoren, een IT (indirecte boiler met voorraadvat), een SGS zonneboiler en Theta Dual Service.