In many cases, technology is not yet sufficiently developed to feed a hot water installation entirely with sustainable energy. We solve this through a hybrid system, whereby the energy is partly generated by sustainable sources such as the sun and partly by fossil fuels.
We combine sustainable energy with condensing (HE) technology. A condensing water heater achieves the highest efficiency through optimum combustion of the gas, but also by extracting the last residual heat from the flue gases. A return of 96% is very common with these A.O. Smith products.
Examples of hybrid systems
SGE
solar water heater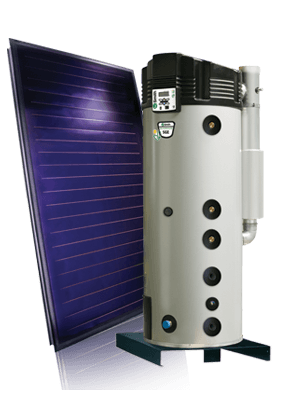 SGE is a condensing HE solar water heater with integrated heat exchanger for solar energy. The compact arrangement is suitable for installations up to 15 solar thermal collectors as standard. The applied condensation technology guarantees a high level of user comfort and a maximum solar contribution. One control unit controls the entire solar installation.
SGS + ITE
solar water heater with indirect tank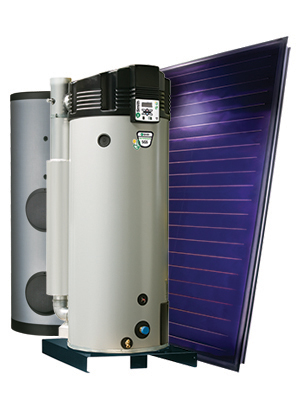 SGS is an HE condensing solar water heater combined with a storage tank with heat exchanger. Via the integrated intelligent control system, maximum solar contribution is guaranteed while maintaining hot water comfort. Solar energy is also transferred to the water in the tank of the SGS, so that the sustainable energy is used to the maximum.
DRE + IT
indirect solar + electric back-up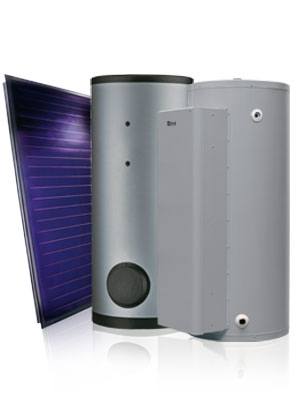 An electric water heater combined with a storage tank with heat exchanger coupled to solar thermal collectors. The water is pre-heated by the sun and then brought to the desired domestic hot water temperature by the electric boiler. Certainly when you still use green electricity, you are very efficient with the electricity required for your hot water supply. The thermal solar collectors also have a very high efficiency. A good way to reduce CO2 emissions.
Are you looking for a hybrid water heating solution?
Contact our local Sales Engineers. They can support you in creating the best suitable hot water solution.